Maintaining and repairing PPR (Polypropylene Random Copolymer) and brass union connections require different approaches due to the contrasting nature of the materials. Here are some guidelines for each:
Maintenance and Repair of PPR Connections:
Regular Inspection: Periodically inspect PPR connections for any signs of leaks, cracks, or damage. Look for visible indications of stress, such as bulging or deformation.
Cleaning: Keep the external surfaces of PPR fittings clean by wiping them with a damp cloth. Avoid using abrasive or harsh chemicals that could damage the material.
Replacement of Damaged Fittings: If a PPR fitting is damaged or shows signs of deterioration, it should be replaced. Remove the damaged fitting by cutting it out and install a new fitting using proper PPR fusion or mechanical joining techniques.
Repair of Brass Union Connections:
Leak Detection: If a brass union connection is leaking, visually inspect the joint to identify the source of the leak. Look for loose or damaged threads, cracked or worn-out seals, or damaged surfaces.
Tightening: If the leak is due to loose connections, use an appropriate wrench to tighten the union nut. Be cautious not to overtighten, as it may damage the fittings.
Seal Replacement: If the seal (gasket or O-ring) within the brass union is damaged or worn, replace it with a new one of the correct size and material. Disassemble the union, remove the old seal, and carefully install the new seal before reassembling the connection.
Thread Repair: If the threaded portion of the brass union or pipe is damaged, it may require rethreading or use of a thread sealant or thread tape to ensure a proper seal. Consult a professional or use specialized tools for thread repair if necessary.
It's important to follow
PPR and brass union factory
guidelines and recommendations for maintenance and repair procedures specific to the PPR and brass union fittings you are working with. If in doubt or facing complex repair situations, it is advisable to consult a qualified plumber or technician to ensure proper handling and safety.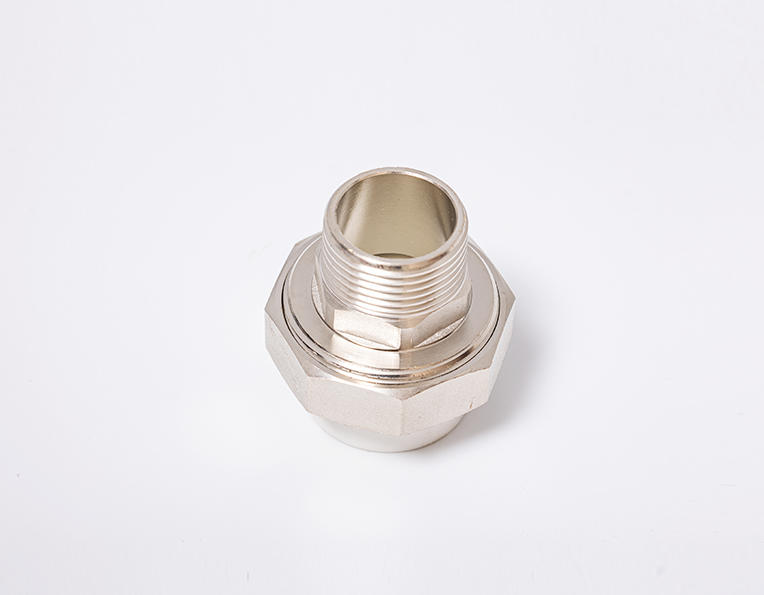 The Male union PPR Fitting is used in the piping system of residential buildings, hotels, hospitals and other places. The performance parameters of PPR pipe are as follows: lay flatness≥4%; wall thickness≤1.5mm; tensile strength at room temperature≥1.2MPa; the density of water pressure≤0.5g/cm3; thermal expansion coefficient 1×10-6 per ℃; heat capacity 40J/(kg℃).
The Male union PPR Fitting is specifically designed to meet the needs of a variety of industrial applications. The unique shape and durable material keeps fitting safe and reliable in any situation. The product meets the requirements for safety, corrosion resistance and pressure resistance.