45° elbow PPR fittings are essential components in modern plumbing systems, providing flexibility, convenience, and efficient water flow direction changes. Versatility of 45° Elbow PPR Fittings:
Change in Direction: The primary function of a 45° elbow PPR fitting is to change the direction of water flow in a plumbing system. With a 45-degree angle, these fittings allow for smooth turns and redirection, enabling the plumbing system to navigate around obstacles, corners, or other structures without the need for excessive pipe lengths or complex configurations.
Flexibility in Design:
45 elbow PPR Fitting Suppliers
are available in various sizes, allowing for compatibility with different pipe diameters and system requirements. They come in a range of dimensions, ensuring versatility and adaptability to accommodate specific installation needs.
Benefits of 45° Elbow PPR Fittings:
Reduced Flow Resistance: 45° elbow PPR fittings are designed to minimize flow resistance, ensuring efficient water flow and reducing pressure drops. The smooth interior surface of the fittings helps maintain optimal water velocity, minimizing energy consumption and maximizing the system's overall performance.
Leak-Free Connections: 45° elbow PPR fittings utilize heat fusion or mechanical joining methods to create seamless, leak-free connections. These reliable joints eliminate the risk of water leakage, providing a secure and durable plumbing system.
Chemical and Corrosion Resistance: PPR fittings are known for their exceptional chemical resistance, making them suitable for various plumbing applications, including aggressive environments. The 45° elbow PPR fittings can withstand the effects of corrosive substances, acids, alkalis, and other chemicals, ensuring long-term durability and reliability.
Easy Installation and Maintenance: 45° elbow PPR fittings are designed for easy installation and maintenance. They can be easily cut, joined, and secured using fusion or mechanical joining techniques. Their lightweight nature facilitates handling, while their robust construction ensures longevity, reducing the need for frequent repairs or replacements.
Long Lifespan: 45° elbow PPR fittings are known for their durability and long lifespan. The PPR material is resistant to corrosion, scaling, and chemical degradation, ensuring the fittings' longevity and reducing maintenance costs over time.
The versatility and benefits of 45° elbow PPR fittings make them indispensable components in modern plumbing systems. With their ability to change water flow direction smoothly, reduce flow resistance, provide leak-free connections, and withstand chemical corrosion, these fittings contribute to efficient and reliable plumbing operations.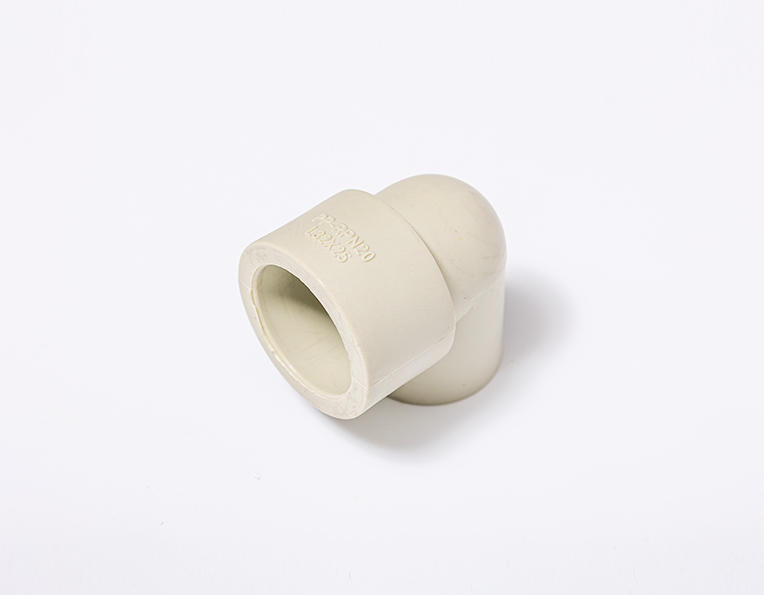 The 45 elbow PPR Fitting is used in the indoor and exterior piping,it is suitable to connect the pipe made of plasticized polyvinyl chloride(PVC),medium density polyethylene(PX)and semi-rigid PE(SRPE)via glueing/screwing.
The 45 elbow PPR Fitting is used for pipeline connection of the following items: 1) PPR pipe 2) Toilet pipe 3) Water supply pipes 4) Gas pipes 5) Electrical cables 6) Automotive parts 7) The material of this pipe fitting is made of high quality brass with good heat resistance and corrosion resistance.